If you're aiming to create a professional organizer website or upgrade your current one, you're in the right place.
In this competitive digital world, an optimized, well-crafted website is more than just a digital business card.
If done correctly, it acts as a 24/7 salesperson and client magnet, seamlessly drawing in those in need of your organizing services and delivering potential clients straight to your doorstep.
In this blog post, I'll unpack the seven key elements (*and one bonus) every professional organizer website needs to not only attract but also convert visitors into clients.
Let's jump in!
#1 A Modern Design and Mobile-Friendly Website
A modern and streamlined design makes all the difference. Think about walking into a neatly organized room. It's calming, right?
Likewise, your website should evoke the same feeling. So make sure your professional organizer web design is modern, images aren't oversized, and your paragraphs aren't endless walls of text.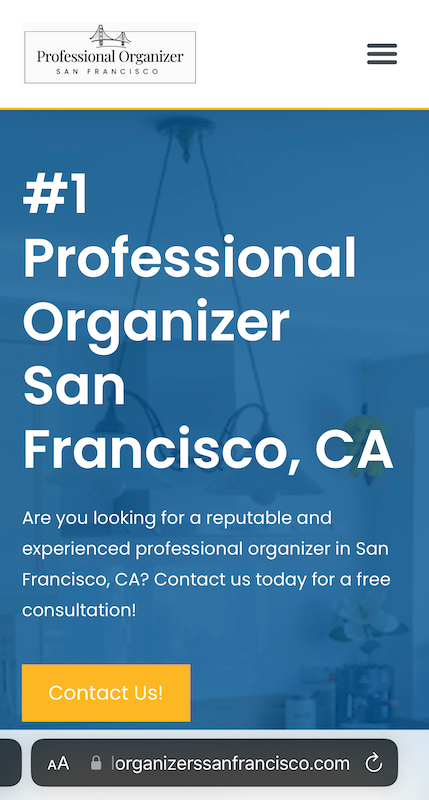 And remember, people will visit your website from various devices. So a mobile-friendly design isn't just an option. It's a necessity.
A responsive design adjusts to any screen size, ensuring a seamless experience for all users on any device.
Using Google Analytics, and adjusted for the last 12 months, here is how people viewed my professional organizing website.
Desktop – 33.3%
Tablet – 1.7%
Mobile – 65.1%
These statistics show that optimizing your website for mobile devices is essential in reaching and engaging with the majority.
#2 A Strong About Page
The About page isn't just a place for your bio. It's where you can connect with your audience on a more personal level.
Tell your story. Why did you become a professional organizer? What makes you passionate about your work?
Can you share any relevant accreditations, certifications, degrees, awards, or podcasts to highlight your expertise and experience?
But don't stop at the personal. Make sure your audience knows who's behind the content. If you're the sole author and owner, say so.
This clarity builds trust with your audience and search engines alike.
Have team members? Include photos of them too!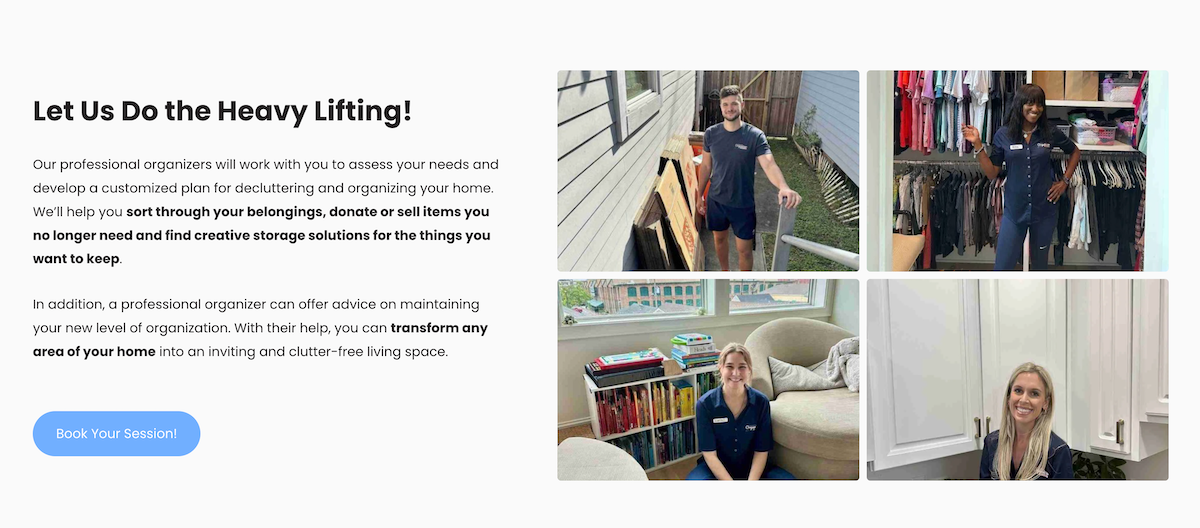 #3 Clear Representation of Your Different Services
Remember, when it comes to professional organizer websites, the more clarity you provide about your services, the better.
Don't leave potential clients guessing.
Instead, lay out your services in a clear and concise manner, highlighting the benefits and solutions you can offer.
What exactly do you offer?
In-home professional organizing? Decluttering? Packing or Unpacking? Downsizing? Do you haul trash and donations away?
It is crucial to highlight the services your offer, where you offer them, and for whom.
By providing detailed information about the services and the process involved, potential clients can gain a clear understanding of what is offered and how it can help them.
#4 Real and Relevant Photos
Real and relevant photos are a powerful asset for your professional organizer website.
They go beyond generic stock images, showcasing your projects and the remarkable transformations you've achieved.
Consider capturing before-and-after photos to visually highlight the impact of your organizing skills and provide a tangible glimpse into the results clients can expect.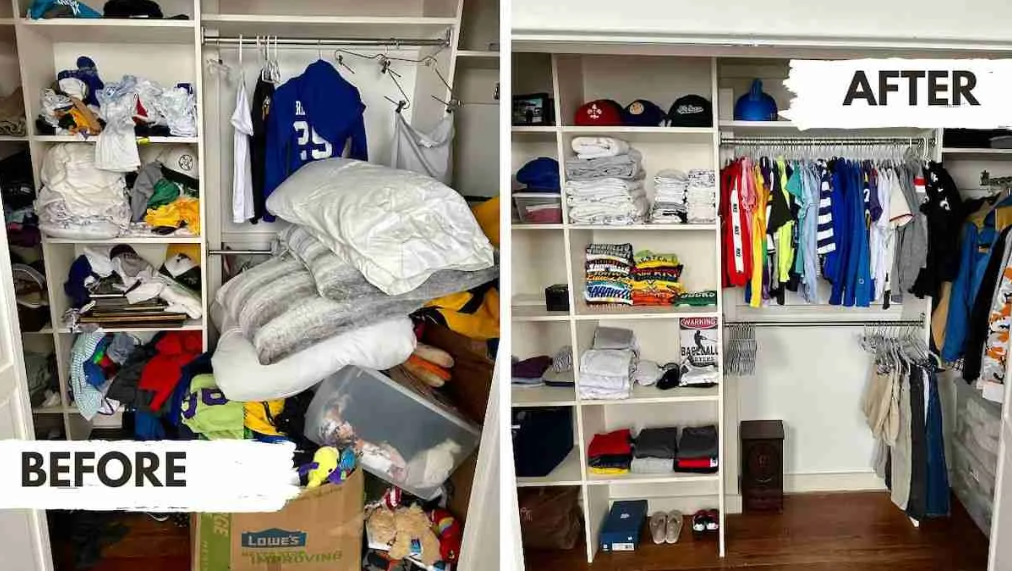 By featuring real photos, you set yourself apart from competitors and establish trust with your audience.
Therefore, it's essential to ensure that your photos are well-lit, adequately sized, and represent your work in the best possible way.
Don't underestimate the influence of including photos featuring real people.
When potential clients see images of satisfied clients or you and your team engaging in the organizing process, it adds a personal touch and fosters a deeper connection.
These authentic images humanize your services, building trust and significantly increasing the likelihood of conversions on your website.
#5 Raving Client Testimonials and Reviews
When choosing a professional organizer, potential clients want reassurance that they're making the right choice.
That's where client testimonials and reviews come in. They provide social proof that your services deliver real value and satisfaction.
These testimonials are powerful endorsements, instilling trust and confidence in your abilities.
Did you know that 76% of consumers "regularly" read online reviews when browsing for local businesses?
Make it a habit to ask satisfied clients for feedback and testimonials. You can also encourage them to leave reviews on popular platforms like Google My Business, Yelp, or social media.
Positive reviews improve your online reputation and engagement and help you stand out from your competitors.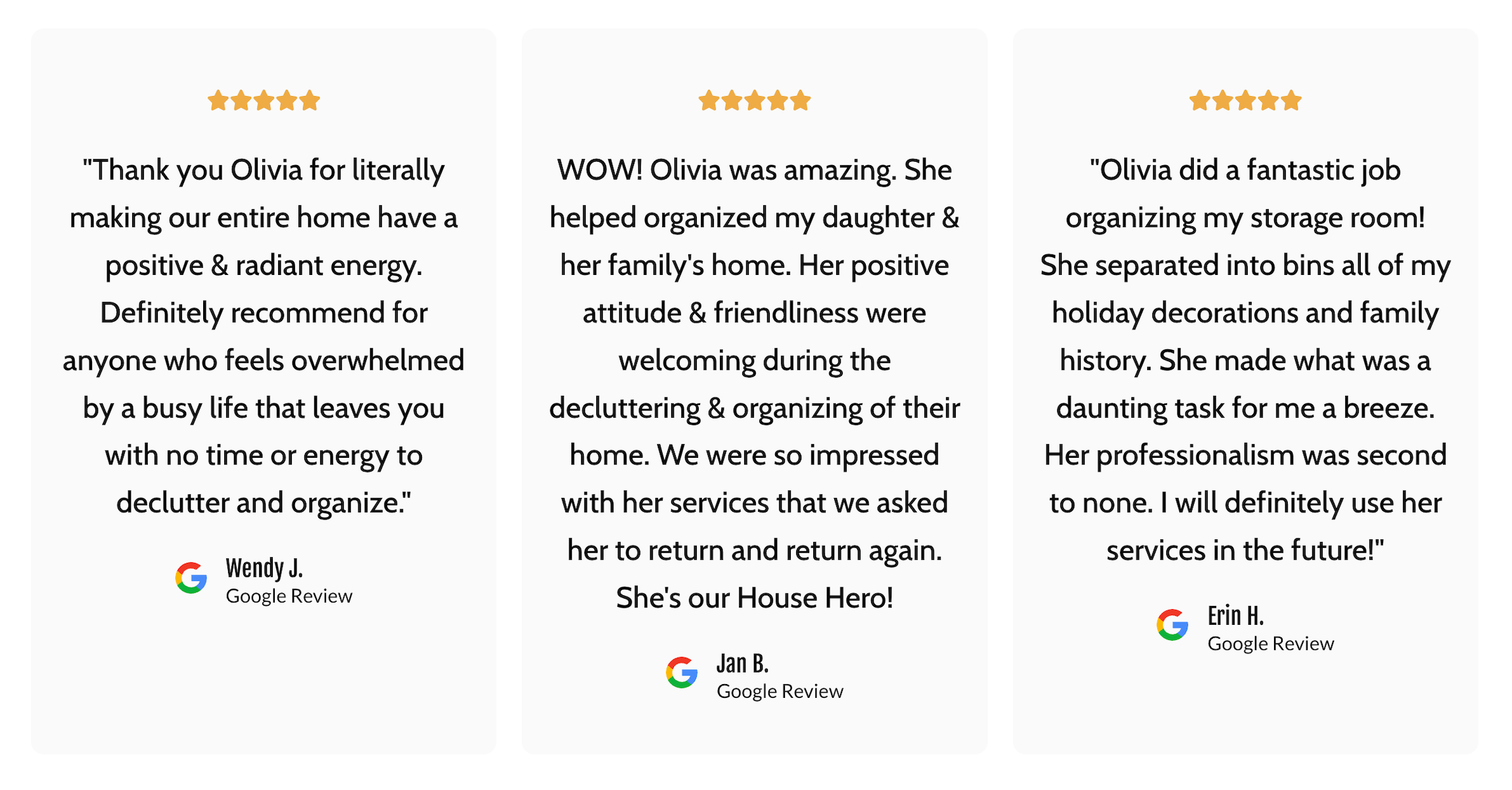 When displaying client testimonials, include the client's name, photo (with their permission), and any relevant details highlighting the service they received.
This adds credibility and authenticity to the testimonials.
Remember, social proof is not limited to just one service. Consider showcasing testimonials and reviews for each of the services you offer.
Whether organizing a home, decluttering an office, packing, or unpacking, let potential clients see that you consistently provide excellent results across all areas of your expertise.
#6 Easy-to-Find Contact Information and Call-to-Actions (CTA's)
When potential clients visit your website, you want to make it as effortless as possible for them to contact you.
That's why having easy-to-find contact information and strategic call-to-actions (CTAs) is crucial.
Imagine you're browsing a website, interested in hiring a professional organizer, but you can't find their contact information anywhere. Frustrating, right?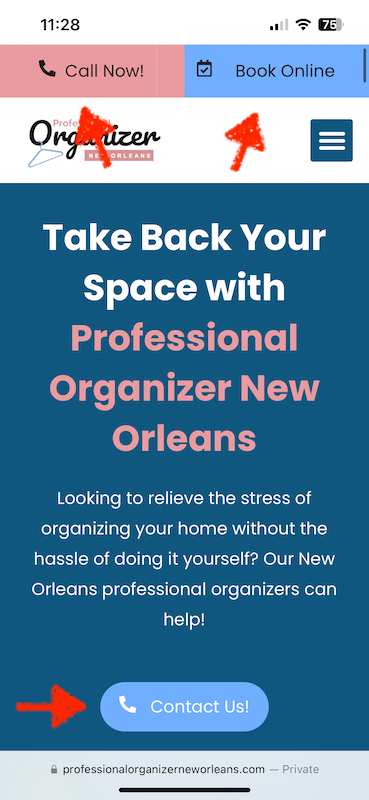 This could deter website visitors and may result in them clicking off your website.
Where to include contact information and CTAs
Strategic placement of contact information and CTAs is critical. Consider including them in the following locations:
Top right corner: Placing your contact information, such as your phone number, in the top right corner of your website ensures it's prominently displayed and easily accessible across all pages.
Above of the fold: The area immediately visible without scrolling, also known as the "above the fold" section, is prime real estate for your primary CTA.
Footer: Remember to include a condensed version of your contact information, such as your phone number and email, in the footer section of your website.
Types of CTAs to include
Consider incorporating a variety of CTAs to cater to different preferences and needs. Here are a few examples:
Buttons: Use visually appealing buttons with clear and action-oriented text, such as "Get Started," "Book Now," or "Contact Us." These buttons can be strategically placed alongside your contact information or within relevant sections of your website to prompt visitors to take action.
Contact forms: Including a contact form on your contact page or within specific pages allows potential clients to submit their inquiries or requests directly from your website.
Clickable phone numbers: For mobile users, make sure your phone number is clickable, enabling them to initiate a call with a single tap.
Remember, the goal is to make it effortless for visitors to contact you.
You increase the chances of converting visitors into clients by strategically placing your contact information and using clear and concise CTAs.
#7 SEO Optimizations
A quality website is undoubtedly crucial for your professional organizing business, but it's just the starting point on your journey to online success.
To truly thrive, you must take proactive steps to drive targeted traffic to your website and connect with your ideal clients.
This is where the power of Search Engine Optimization (SEO) for professional organizers comes into play.
By implementing a strategic local SEO strategy, you can significantly improve your online presence and attract potential clients actively searching for your services in your area.
SEO is about optimizing your website to dominate local search results, including securing a prominent position in Google's local pack—the prime real estate that places your business front and center for local users.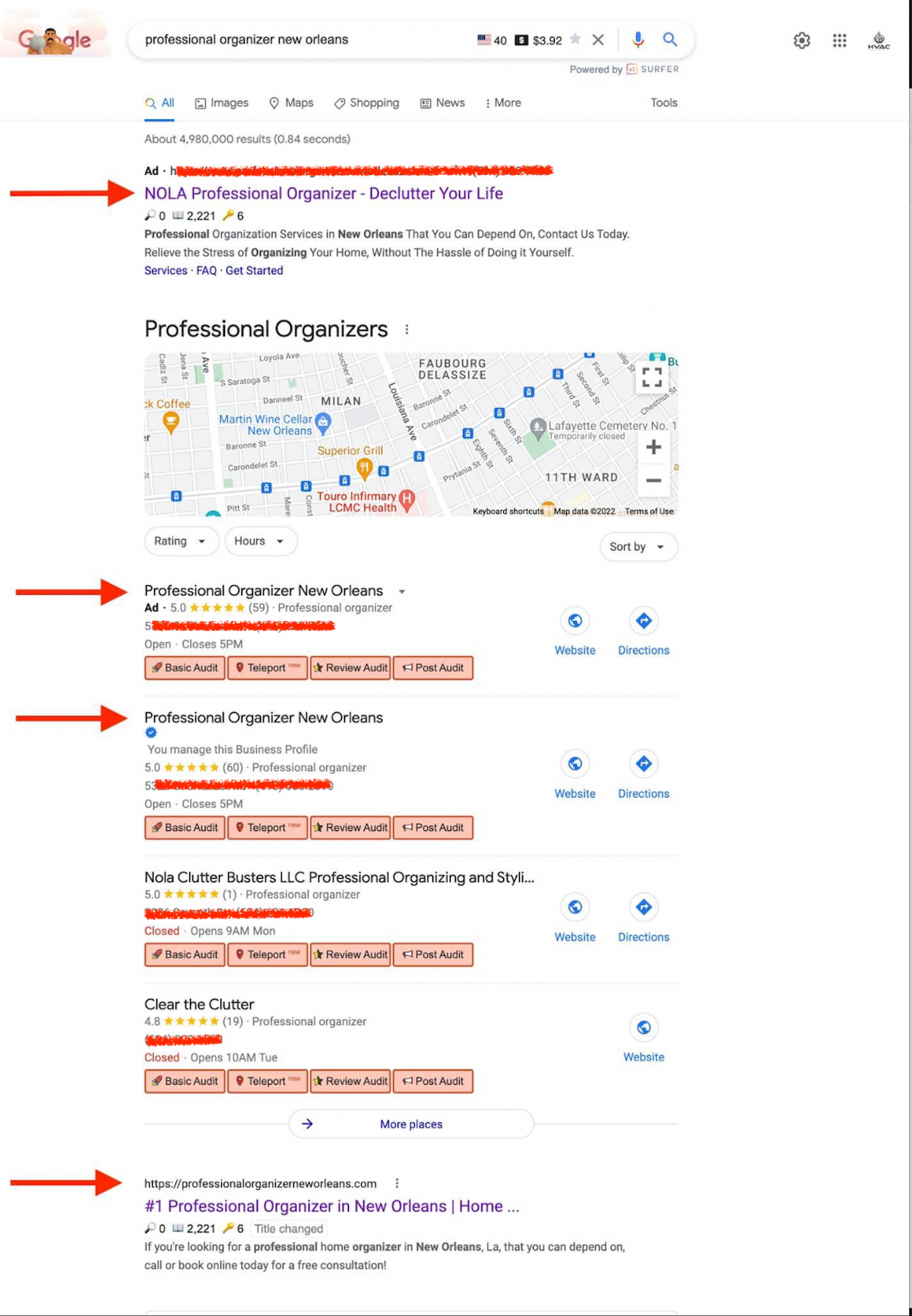 It's important to optimize your website's content for your targeted keywords, build authoritative backlinks, and have a strategy to generate new online 5-Star reviews.
And as you've probably heard, SEO is a long-term game that takes consistent work.
But, showing up as the number one where most customers search for organizing professionals is an extremely valuable way to generate leads for your business.
Doing so increases your visibility in local search results, establishes your professional organizing business as a trusted local authority, and ultimately drives more qualified traffic and leads to your website.
#8 Bonus! Conversion Tracking
Not a sexy topic, but an important one nonetheless.

Tracking and analyzing your website's performance, visitor behavior, and lead generation is very important.

By leveraging analytics tools like Google Analytics, you gain valuable insights into how your website is performing.
Therefore, you can make data-driven decisions to improve its effectiveness.

Setting up contact form tracking is an excellent way to measure lead generation and conversion rates.
Redirect users to a thank you page after form submission and track it as a goal in Google Analytics.
This can be done under "Conversions" inside Google Analytics. Next, head to "Goals" and select "Goal URLs".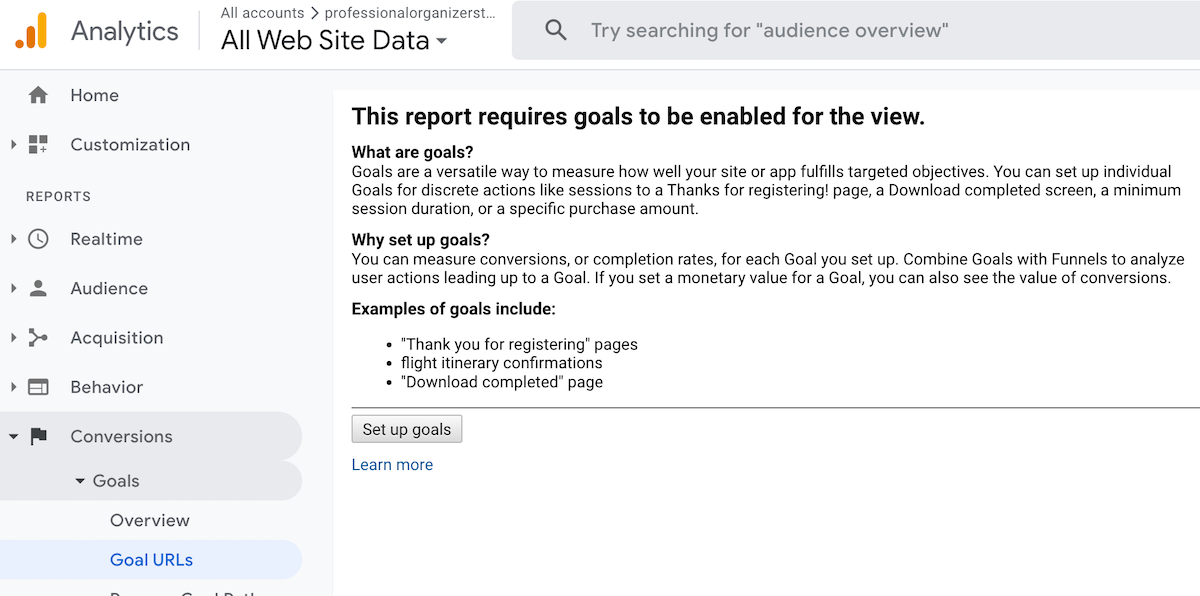 Press "Set up goals".
Press "New Goal"
Enter a goal name and choose "Destination" as a Type.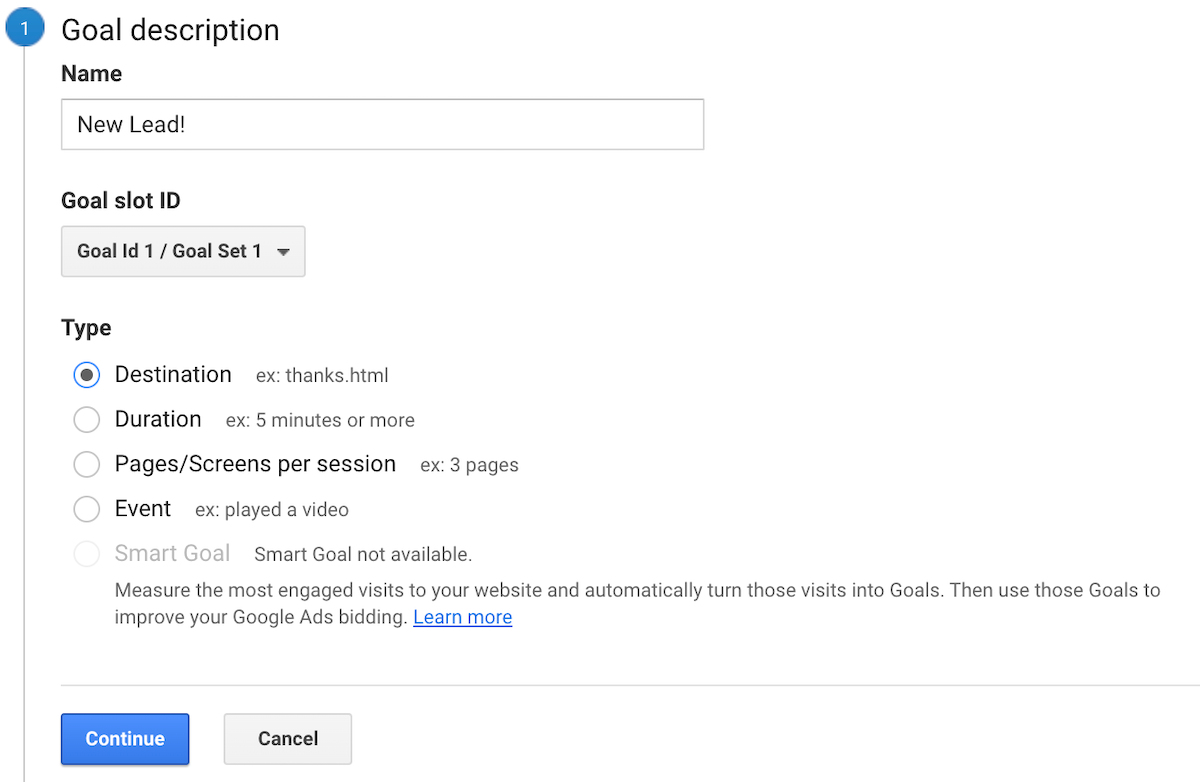 Press "Continue"
Enter the URL of your thank you page and press "Save".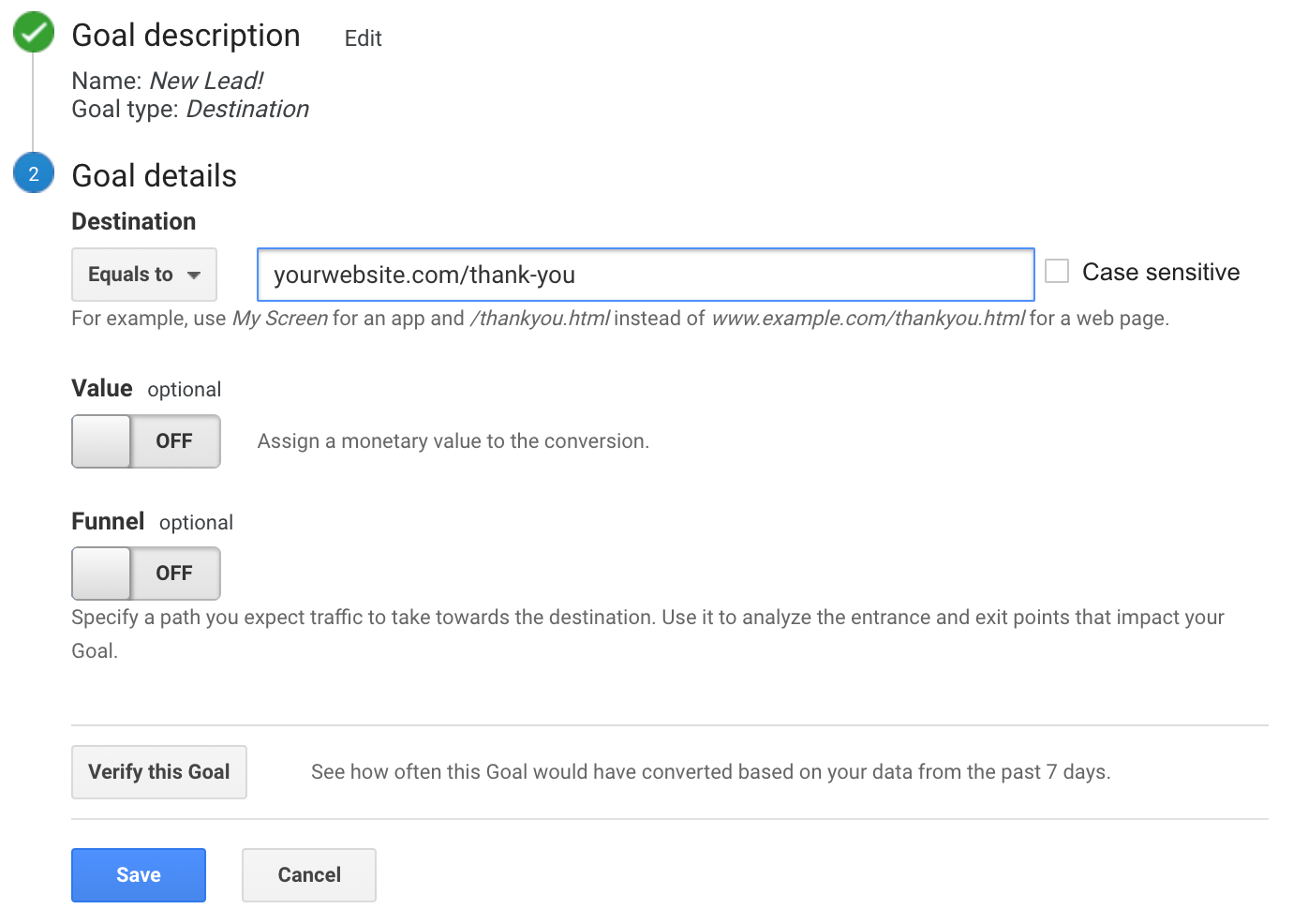 Go back to the "Home" and scroll down. It should look like this.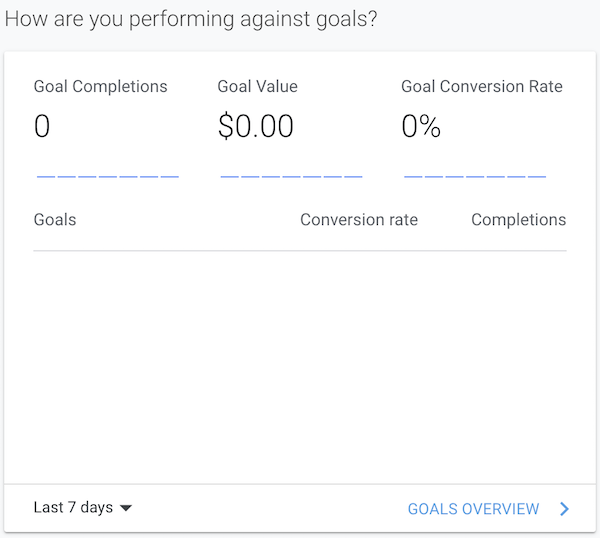 That's it!
There you have it. Eight total key elements that every professional organizing website should have.
A website is a great marketing channel for a professional organizing business, but it isn't the only marketing channel. If you want to keep reading, check out our recent post on leveraging Thumbtack to drive leads to our organizing business.
Thumbtack for Professional Organizers
Need a website or know someone who does? Need SEO Help? Contact me! Please feel free to message me here on this website, at my email (info@myprofessionalorganizer.com), or text me at (504) 858-3340.